11 Jan

Cleveland Mini Cooper Fanatics: Feeling The Love For The Mini Coop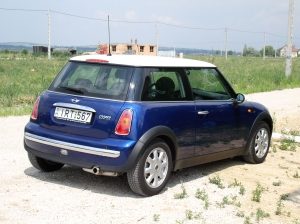 Safe to say you know a Mini Cooper when you see one. Arguably no other high performance European automobile is going to grab the attention that the Mini Cooper will, and for good reason! Compact, incredibly responsive, and extremely well-designed, this distinctive vehicle features a truly innovative design that continues to impress and amaze even decades after its first appearance.
BMW has taken up the Mini Cooper tradition and run with it – pushing these already remarkable vehicles to new highs. They are generally very reliable vehicles, but Mini Cooper maintenance is an important part of creating that long-term dependability that most owners want.
What Makes the Mini Cooper Stand Out?
At first glance this seems like one of those "no duh" answers because it's obvious: the small design. However, if the design was all that this car had going for it then it would have been a fad that faded out a long time ago.
In addition to the classic design, you'll find that Mini Coopers are also known for:
Outstanding handling
Excellent traction on the road
An unexpectedly roomy interior
Surprising speed, acceleration, & power
Quite a lot of good stuff wrapped up in a small package. Is it any wonder our experienced professionals get excited when someone drives in a Mini Cooper for detailing, maintenance, or repair work? That's a vehicle we're proud to help get back on the local roads!
Fun Fact: In 1999 a panel of 130 automotive journalists from around the world voted the Mini as the "European Automobile of the 20th Century." The Mini even came in second overall in the global voting.
Mini Cooper Upkeep Definitely Matters
While the Mini definitely isn't buggy or a problem vehicle, in recent years there have been a few maintenance issues that have popped up semi-regularly. Or at least often enough that you need to be alert for any warning signs of these potential problems. Fortunately, we've put together a crash course on how to identify the maintenance needs that are most likely to pop up, ensuring you can get your Mini Cooper in at the first sign of trouble.
The Most Common Mini Cooper Repair Issues
#1: Electric Power Steering Pumps Fail (Lose Power Steering)
If you're noticing the steering getting tight, you're working really hard to turn your car, or the handling is just not up to par, then that could be a sign that the electric power steering pumps in your Mini Cooper have failed or might be on the way there.
This is one of those issues that seems to be unique to recent models of the Mini Cooper, and it is one that you really need to act on if you are losing the seemingly effortless precision movement that you expect from your Mini.
While the primary cause of these failures is overheating, the problem could also involve the pump, the cooling fan, a blown fuse, or all of the above. This is especially common in the 2002-2005 models, but you should bring your vehicle in if you start noticing this issue, regardless of your car's age or model.
The best maintenance tips to help prevent this? Make sure you don't let your power steering fluid levels get too low, and keep an eye on the electric cooling fan. Those are the two big ones that can save you a lot of grief down the road.
#2: Variable Valve Timing Issues
Timing issues with the variable valve have caused some major problems in some relatively recent models of Mini Coopers. Because of how these specialty European autos are designed, this part is tied into emissions, fuel economy, and even overall performance. Sometimes referred to simply as VVT: this is an issue that does come up.
While there is more than one potential cause of these complications, many times a buildup of engine sludge is at the heart of the issue. Regular maintenance and oil changes is the ideal way to help prevent this particular problem.
If you need some Mini Cooper maintenance work, we'll be glad to help you keep up on your oil change schedule so you can avoid this repair issue!
#3: Early Clutch Failure
Clutch failure is one of those potential problems that can come up with virtually any vehicle, and as well designed as it is, the Mini isn't immune to this particular problem. Early clutch failure, when it happens before what would be considered a reasonable amount of time, is often due to extended hard use.
Obviously this is especially common in models with manual transmission. When you find the clutch is really hard to push, then it's well past time to get an inspection.
#4: Transmission Issues
Transmission issues in early models with an automatic transmission is a common Mini Cooper repair need. While later models are built better and interact with the unique engineering much more fluently, early model designs have run into some issues. Some of this is also very much self-inflicted.
Take it from our professionals, it doesn't matter if the maintenance specifications state that the fluid never needs changing or rarely needs changing. Changing out transmission fluid as part of regular maintenance will keep the automatic transmission working great and prevent maintenance issues from becoming full repair projects.
With modern 5-speed automatic transmissions this won't be as necessary, but once again a little prevention saves a lot of headaches on potential repairs later.
#5: Water Pump/Thermostat Leaks
Finally, you definitely want to keep an eye on the water pump as well as the housing around the thermostat. This is especially true in Mini Coopers that have over 50,000 miles on them. These parts tend to get a little bit of wear and tear, and while sometimes they go gradually there are also times when everything goes at once.
This is a particularly tricky one because sprouting a leak isn't just a problem for the water pump, but it can affect other parts of the engine as well. Ignoring potential problems here can end up leading to much more expensive repairs down the line.
If you bought your Mini used and aren't sure about the history of the automotive work, bring it in for an inspection and look at getting these replaced to be on the safe side. A little prevention goes a long way toward preventing bigger issues later.
Your Mini Cooper Is in Good Hands
We have two locations, in Cleveland & Chagrin Falls, and we gladly offer service to University Circle, as well. Our experienced automotive technicians and mechanics can handle each and every one of your Mini Cooper needs. Whether you're looking for special Mini Cooper parts, want some detailing done to make it look it's best, or are looking for some professional Mini repairs or maintenance, we will take care of your Mini Cooper like it's our own!
Call us today to make an appointment and we'll get you setup for exactly what you need!
Chagrin Falls Location: (440) 591-5488
Cleveland Location: (216) 229-8000