11 Jan

Prepare Your European Import for Winter Driving

Remember as a child when winter was nothing but delight, and the skies dumping down two feet of snow meant staying home from school and imagining what type of snow fort you could build next? For most of us winter has lost a bit of its appeal since we've had to deal with driving in the snow. While it's not likely to ever recover that unabashed and unconcerned childhood love of snow days, the good news is that for those of us who still need to drive for work and errands, there are plenty of options for prepping for winter driving in Ohio.
Prepping Your Import for Winter Driving
If you're new to owning a European car, the good news is that gearing up for winter conditions in Ohio isn't going to be all that different than winterizing any other vehicle. Start by asking yourself these questions:
Does your vehicle model have anti-lock brakes (ABS)?
Is it the best choice for winter driving?
Have you brought your vehicle in for maintenance recently?
Sometimes the high performance speed of a Porsche feels great, but on icy roads that's not the specific type of engineering that you're really looking for. Some vehicles are simply going to be better built to handle the challenging driving conditions that a north Ohio winter brings compared to others, and keeping all seasons in mind is going to be a good idea from the moment you're choosing your European luxury car.
Even with all the right features, there are certain steps you'll always want to take before the very first flakes of snow fall. Bringing your vehicle in for winter maintenance before the weather turns too cold should be at the top of the list. Doing so ensures you'll be ready for when that inevitable weather arrives.
Check All the Fluids
You don't want to go into the cold harsh driving conditions of winter low on any fluids. The autumn is a great time for an oil change, making sure you have enough antifreeze, coolant, and don't forget about windshield wiper fluid! You want to make sure that everything is in tip top shape so you aren't caught stuck or blind on a freezing day.
Check the Battery
You might be able to get away with an iffy connection during the warmer months, but cold weather is especially tough on car batteries. You want to make absolutely sure everything is in good working order. You don't want to pack up the car in a rush to get home before the worst of the storm, turn the key, and get nothing.
Keep a set of jumper cables in your vehicle for emergencies as well – even the best batteries can fail in cold conditions.
What Tires Are You Using?
Depending on what type of traveling you do in the winter and whether you spend most of the time downtown or out on the edges of the city, winter tires might be an option. At bare minimum, you'll want to check the quality of your tread, the air pressure, and the balance of your existing tires. These are little parts of the maintenance process that make a big difference before those famous Ohio winters.
General Inspection
You shouldn't be going over a year without a general checkup anyway, so why not time that to take place before winter comes in? This can cover tires, fluids, ignition, spark plugs, and all the common failure points automobiles have during the winter as well as a check for any specific model or brand issues your car might be known for.
By doing this checkup before winter, you can drive knowing your vehicle is in good shape and able to get you through even the most challenging road conditions ice and snow will throw your way.
Top Rated New European Models for Winter Driving
Some models are designed to hit top notch speed in the blink of an eye, some are designed to hug the road in a way you never thought possible, and some models are built with winter driving in mind. If you're looking for a new European import you might want to take a look at one of these models if winter driving is a major component of your annual driving.
One quick note: just because the car you own isn't on this list doesn't mean that your fine example of European engineering won't function well in winter. This is just the short list of very new (2018) models that were specifically recognized by U.S. News & World Report and others as being truly exceptional at handling heavy winter conditions.
The 2018 Audi A4
The 2018 Audi A4 was rated as the 3rd best new automobile for winter driving. Featuring sky high safety scores, excellent handling, and the famed Quattro all-wheel drive system, this is a really top notch car for winter driving. It is front wheel drive, which can be a problem in true blizzard conditions, but unless the snow has completely buried the roads, you should be in good shape.
The heated seats aren't necessarily a winter driving feature – but they sure are pleasant!
The 2018 Volvo V90 Cross Country
Nipping at the Audi's heels is the highly regarded 2018 Volvo V90 Cross Country. Rated 6th overall for winter driving by U.S. News & World Report, the Cross Country is a great vehicle capable of handling all weather conditions. Given how quickly things can change just off of Lake Erie, that's never a bad thing to have in your pocket. The engine is boosted not only by a turbocharger, but is further boosted by a supercharger as well.
Throw in some quality all-wheel drive and a little bit of extra height to look out over the streets and there's a lot to like here. The heated seats in both rows are a delight for those extra cold days.
The 2018 Volkswagen Atlas
Another new European model designed with all four seasons in mind, the 2018 Volkswagen Atlas delivers everything you would expect from an outstanding European SUV. Plenty of space, three rows of seating, and a choice between standard front wheel drive or the new 4Motion all-wheel drive system.  There are even "driving modes" meaning you can select the "Snowy" setting to let the vehicle's computers know what type of conditions it needs to react to.
Contact Us Today to Set Up Your Winter Maintenance Appointment!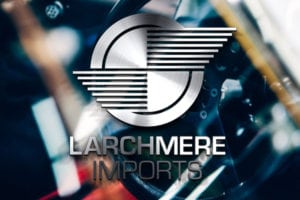 Our professional mechanics, technicians, and specialists know how to get your car ready for the winter. Whether Audi, BMW, Porsche, or any other type of European automotive feat of engineering, you're in good hands with us. Larchmere Imports currently features two locations: one in Chagrin Falls and one in Cleveland. We also offer pickup service for University Circle.
Make sure you're ready for winter by booking with us today!
Chagrin Falls European Auto Service Station: (440) 591-5488
Cleveland European Auto Service Station: (216) 229-8000