11 Aug

Larchmere Imports: University Circle's European Import Specialists

If you love arts, classical music, culture, there's no question you're very familiar with the University Circle neighborhood of Cleveland. In fact, our city's artistic pride and joy is nationally recognized for having one of the "densest concentrations" of active cultural buildings & attractions in the entire United States. Whether you're a fan of the Cleveland Botanical Gardens, love listening to the Cleveland Orchestra, or want to visit many of the museums or historical sites there, let's just say there's plenty for visitors to see and do.
What happens when trouble strikes?
Hard to imagine a better day than taking your favorite European auto out for a day or night around University Circle, enjoying all this amazing area has to offer, then heading home for a relaxing evening. Unfortunately, sometimes you head out only to hear a new knocking sound in the engine that doesn't sound good, you notice a loss of power, or you even get there but then the car doesn't start when you come back.
Uh-oh. Day or weekend spoiled, right?
While this can certainly be an inconvenience, and it's certainly not ideal, this doesn't have to be completely devastating. While the actual garage locations for Larchmere are in Chagrin Falls and Cleveland, we are proud to provide full valet services for our customers in University Circle. This comes with a free loaner car so if we need time to get your European auto fixed and back on the road you can still drive back to University Circle (or the rest of Cleveland) in style as we get the work done.
Servicing the University Circle Area
There's no reason to be frustrated or to struggle with finding a good European automotive specialist in this popular spot. We believe in making the maintenance and repair of your automobile as easy and smooth as possible. Unfortunately, most commitments are time-related. They can't wait. The shows you want to see take place whether you're there or not, attractions will still close during their regular times, and getting to all the places you wanted to go can't be done without a vehicle to get around.
This is why we offer FREE loaner cars in certain situations so you can stay on schedule and continue to make the most of your day. When we're taking care of getting your car fixed, talk to one of our service advisors and we'll show you why we've earned a stunning near perfect review score from well over 100 past customers on Google Reviews.
We take pride in our amazing customer service and in giving you a truly outstanding experience as one of our clients. We never compromise on quality of work, and we bend over backwards to help you get around and to take care of that trust you've given us.
Getting the ball rolling on European auto repairs
We can start by having you bring in your car if you notice early signs of trouble while out and about in University Circle. If you're car has broken down, call us. We'll pick you and the vehicle up and get you set up with a loaner car you can use until we get yours back up and running once again.
You can call us on the phone or schedule an appointment with us through our easy to use scheduling form. We take pride in offering pick-up and drop-off services that are convenient, fast, and above all else reliable.
That's the extra mile we're willing to go for customer service. If necessary, we'll come right to you, pick up your car, service it, and bring it back. That does not come with any additional fees or charges – that's simply part of what we offer Larchmere customers using our University Circle valet service.
Four steps for easy University Circle service from Larchmere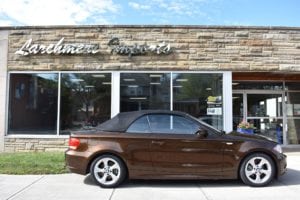 #1: Schedule the pick-up. This can be done by phone or by filling out the online form.
#2: We'll come to you at the time and place of your choice to work around your schedule.
#3: We'll take care of the maintenance, repair, and service needs of your vehicle
#4: Once finished we'll bring your car to you!
Getting set up with us really is that easy! So if you have service needs in the University Circle area, don't hesitate to give us a call at (216) 229-8000 today.